SKAGIT VALLEY TULIPS & DAFFODILS TOUR
When: March 15 – May 7  9:30am-1:30pm*  2:30-6:30pm*
Price:
$92 adult, $46 child (10 & under)
*times set to accommodate the Amtrak Cascades train, Greyhound bus & public transportation schedules from Seattle and Vancouver
extended 2hr tour option available
People from around the globe visit us to experience the Tulips and Daffodils Extravaganza during March and April! Seventeen fields and two gardens come to life painting our valley in the most colorful displays you've ever seen!  Come see why our Daffodil and Tulip Festivals were voted the top 2016 Spring Trip by National Geographic!
The festivals include month-long activities in Mount Vernon, La Conner and Anacortes while the beautiful daffodils and tulips are blooming. Did you know there are 600 football fields worth of farmland, within a 15 mi radius, covered in flowers? But how many daffodils and tulips are grown in Skagit Valley?  Let's go count!
During the Skagit Valley Tulips & Daffodils Tour, we'll visit the exquisitely arranged tulip gardens at RoozenGaarde and Tulip Town, both of which also have extensive and multicolored tulip fields.  Plan on photographing tulips to your heart's content!  Food is available at these venues, at several nearby restaurants and delis, or enjoy a delicious salmon barbeque.
You'll also be driven around the back farm roads to the blooming fields so you can take more pictures of the stunning color displays from the millions of tulips.  Look up, you might catch the majestic Mt Baker spying down on you or swans and geese flying overhead early in the season.
During the tour, you will learn about the daffodil and tulip industry in Skagit Valley and other parts of the world, as well as the origin, history, impact on human cultures, horticulture, farming, varieties, characteristics and meaning of the tulip.  Did you know it is called the "Peace" flower?
The 2hr extended tour option offers a visit to the historical waterside towns of La Conner or Anacortes, or to Deception Pass bridge (NW Washington's #1 attraction).  If kids are on board, a special stop can be scheduled for them (Wed-Sun).
Rubber boots are supplied when fields are muddy.
Official tour operator and sponsor of the 2017 Skagit Valley Tulip Festival.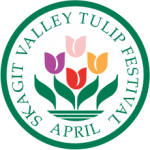 Testimonials
"We had a wonderful tour of the tulips.  Our guide was very knowledgeable as well as most accommodating and friendly. She felt like a dear friend by the end of the tour. Couldn't have asked for a better day! We would certainly recommend Skagit Guided Adventures." Cheryl & Jim, Washington
"Stephanie does an amazing job navigating her way through the tulip fields. She is full of amazing tidbits of information, willing to go the extra mile to make your trip memorable and she thinks of everything, from boots to gloves!  I highly recommend her for your Skagit Valley Adventures!" Linda, Ally & Millie, Massachusetts
"Very personalized tour, loved the colors and the inside know how! An experience I won't forget!  While I am in Skagit Valley I plan on going on more adventures with Skagit Guided Adventures!" Margaret, Arizona
"Thanks everything you done for me! I was so happy with you. You was so professional and you guided me really well! I appreciated it." Antonio, Taiwan