Weekends, November – March, 10:30 am-12:30 pm and 2:30-4:30 pm
$55 Adult  $27.50 Kid (10 & under) (includes taxes & fees)
Extended 1-hr and 2-hr tour options available (additional cost)
Weekday arrangements for homeschoolers
Group size: 2-6 Adventurers  
Meeting location: varies
Winter Birding for Kids – An "I Spy" Adventure in Skagit Valley offers a fun way for kids to learn about our Birds of Winter, how to identify them in their natural habitat, and how to practice mindful Birding.  We teach them how to use binoculars and a field guide to identify species.  Their mission is to "SPY" the birds that make Skagit Valley their home in the Winter.
During the 2-hr drive around Skagit Valley's farm fields, we'll search for the thousands of snow geese & smaller flocks of tundra and trumpeter swans.
Be prepared to listen to the cackling cacophony of the 
highly gregarious geese and the honking of the elegant swans. Watching the birds' social and feeding behaviors is always entertaining and fascinating.
We'll also be on the lookout for Bald eagles, hawks and owls that nest and hunt the fields for small rodents, birds, frogs and insects.
Warm clothing (including gloves and hat) and rain gear are highly recommended during our sometimes crisp, breezy and wet winter days.
Binoculars are provided.
The Extended Tour options (1 or 2 hrs) include visiting Padilla Bay to look for shorebirds and/or Fidalgo Island (at the edge of the Salish Sea) to look for sea birds, sea ducks and other shorebirds.
For more details and availability on our Winter Birding for Kids Adventure, call us at (360) 47 47 47 9.
Meet STEPHANIE, our ADVENTURE GUIDE.
TESTIMONIALS
"We saw both kinds of swans (Tundra and Trumpeter) and snow geese by the thousands, which is what we expected. Also saw lots of Bald Eagles, Mallards, and Great Blue Heron, a couple of Kestrel, Peregrine Falcon, and Red-Tailed Hawk. We didn't see an owl but were shown a spot where a pair have a nest, and my grandson was fascinated by all the little bones on the ground below that spot. My older grandson is 8 years, and had a great time – he said it was the best day ever! My younger grandson is 6 and just kept talking about 'animals', so Stephanie made a special effort to show off many farm animals, including great big pigs, miniature donkeys, and alpaca. She was well prepared with a birding book, illustrations, facts, and loaner binoculars." Joetta, Washington
""The girls and I uniformly had a delightful time birding today.  It was a lovely way to spend a wet afternoon in the Pacific Northwest." Marc, Washington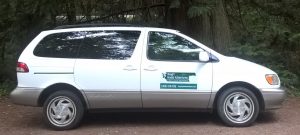 Visit Birds of Winter: A Skagit Valley Experience for a complete list of events happening December – February.
From Seattle or Vancouver, hop on the Amtrak Cascades to the Mount Vernon station pick-up.  Enjoy a comfortable and scenic ride along the edge of the Puget Sound.
Skagit Guided Adventures offers fun small group Nature Eco Tours, Tulip and Farm Tours in Anacortes and Skagit Valley.  In addition, Day Hikes & Wildflowers Hikes are offered in Mt Baker and the North Cascades.  Join one of these fun Adventures for a day or stay longer for a multi-day Adventure to "Re-Wild" Your Spirit! in NW Washington.