Experience the rich bird life in the natural and diverse habitats of western Skagit!
Our Skagit Birding Eco Tour takes you on an Adventure around Skagit's farmlands, bays, forests and sea shores in search of the resident and migratory birds.
Stephanie, our expert local birding guide, takes you to all her favorite birding hotpots and aids you in identifying species by sight, sound and behaviors.  She'll also teach you how to use binoculars and how to Be Bird Wise!
In Winter and Spring, enjoy watching the thousands of snow geese & smaller flocks of tundra and trumpeter swans foraging the farmlands.  Be prepared to listen to the cackling concerto produced by the highly gregarious geese and the unmistakable honking of the swans.  Bald eagles and a variety of raptors are seen hunting in the farm fields.
Around Skagit and Padilla Bays, waterfowl, shorebirds and wading birds abound: elegant pintail ducks, chatty widgeons, magnificent great blue herons, acrobatic dunlin and many other shorebirds.  Ever been to a heronry?
The shores of the Salish Sea around Anacortes and Deception Pass teem with a variety of seabirds.  Harlequin ducks, scoters, loons, buffleheads, grebes, mergansers and cormorants dive incessantly for food in their underwater restaurant.
In Summer, the coastal temperate old-growth forest, wetlands and rocky shorelines shelter chickadees, nuthatches, warblers, flycatchers, wrens, hummingbirds, woodpeckers, swallows, bald eagles, ospreys, vultures, oystercatchers, the highly endangered marbled murrelets, rhinocerus auklets, pigeon guillemots and more.
Stunning backdrops of farm fields, historical barns, snow-peaked Cascade mountains, Mount Baker, the San Juan Islands and the waterways of the Salish Sea are there to frame your photos.
Much of the birding can be done from the vehicle but easy short walks are necessary to get to some of the viewing areas.
NOTE: Don't let our winter weather deter your enthusiasm for joining our Skagit Birding Eco Tour.  Much of the birding can be done from and close to the warmth of my vehicle.  Nonetheless, warm clothing (layers, gloves and hat) and rain gear are highly recommended to keep you warm and dry on the short walks.
NOVEMBER – MARCH
9:30 am – 3:30 pm
$328
Activity level: EASY
SENIOR FRIENDLY
For all birding levels and walking abilities
more details below
BOOK MY ADVENTURE
"We enjoyed our Skagit Birding Eco Tour immensely! Stephanie is a knowledgeable guide and knows where all the birds are."
Henry and Maddy (Washington)
"Our guide Stephanie was fantastic!  She organized the trip to make sure that we saw as many new species of birds as possible. It was a great day!"
Susan, Alabama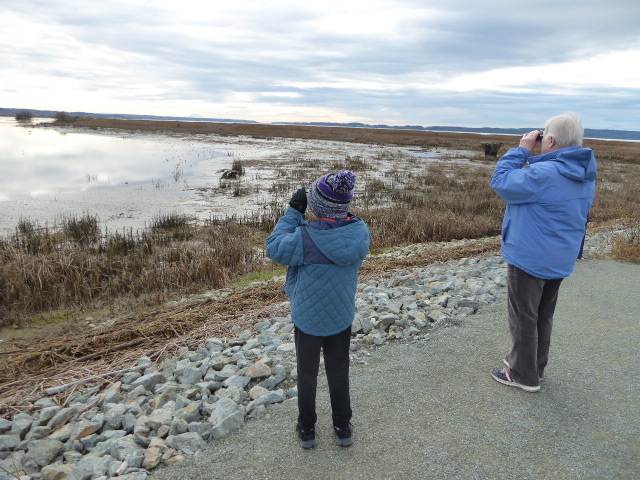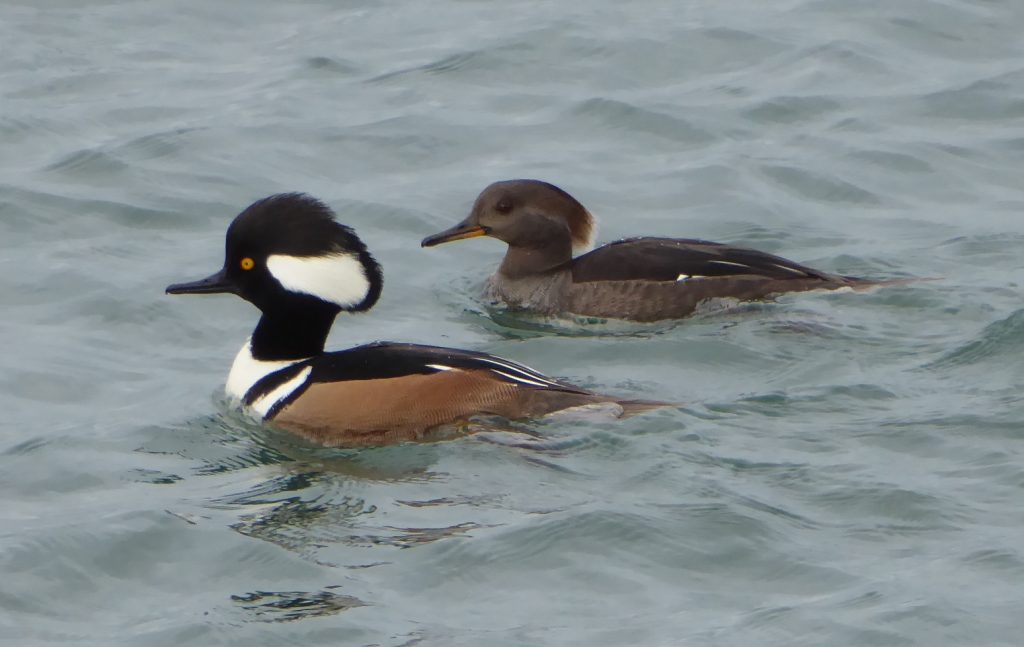 DETAILS
Included: Skagit's top guide, transportation and fuel surcharge
Not included: lunch, taxes & fees, gratuity
Very small group size: 1-5 Adventurers.
What to bring: binoculars, weather appropriate clothing (layers, gloves, hat, rain gear), comfortable walking shoes, lunch/snacks & beverage.
Meeting location: Shawn O'Donnell's Farmhouse Restaurant (Mount Vernon) parking lot (free and safe, plus nice bathrooms and good food!)
FAQs: How do I get to your area? | Where can I stay? | Booking & Cancellation policy | Safety & Forms
Skagit Guided Adventures has been featured in:
Epoch Times – Migratory Birds Bring Opportunity, Environmental Concerns to Washingtonians, April 2, 2021
NTD News – Washington Flock Flies Off, March 22, 2021
Skagit Valley Herald – Birds Subject of Online Event, March 14, 2021
KNKX & Birdnote – Winter Birds of the Skagit Valley, March 11, 2021
Weekends in Washington – Skagit Valley Snow Geese Tour, July 2020
Looking for a Multiday Adventure in Skagit?