Skagit River Eagle Festival Eco Tour
Join Skagit Guided Adventures small group Skagit River Eagle Festival Eco Tour to " Re-Wild" Your Spirit!  Experience the wilderness along the Skagit River, during December & January, where hundreds of migratory bald eagles congregate to feast on the winter salmon run.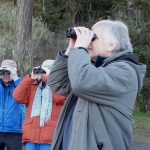 As you watch, listen and learn about the regal bald eagles during our crisp winter days, you'll find yourself surrounded by the snow covered mountains of the North Cascades, as well as the moss & lichen covered forest trees. The incessant glacial meltwater of our life sustaining Skagit River will serenade you all along.
During the Skagit River Bald Eagle Festival Eco Tour, you'll also learn about the life cycle of salmon, the different species, and their importance in sustaining not only the bald eagles, but also bears, orcas, the PNW fisheries and ways of life.  You'll also understand the role our magnificent temperate rainforest plays in sheltering the entire Skagit River watershed system on which it's wildlife, and humans, depend upon.

Included in the Skagit River Bald Eagle Festival Eco Tour are: a visit to the Skagit Bald Eagle Interpretive Center, to a salmon hatchery and a short forest walk among giants.
Dress warmly! Long underwear, fleece pants and jacket, gloves, hats, ear muffs, and rain gear are highly recommended. Temperatures in December and January along the Skagit River are in the 30s-40s.
Skagit Guided Adventures offers small group Nature Tours and Farms Tours in Anacortes and Skagit Valley.  In addition, Day Hikes are offered in Mt Baker and the North Cascades.  Join one of these fun Adventures for a day.  Or stay longer for a multi-day Adventure to "Re-Wild" Your Spirit! in NW Washington.  Check out all Guided Adventures.