ANACORTES "WILD SIDE" ECO TOUR
Activity level: easy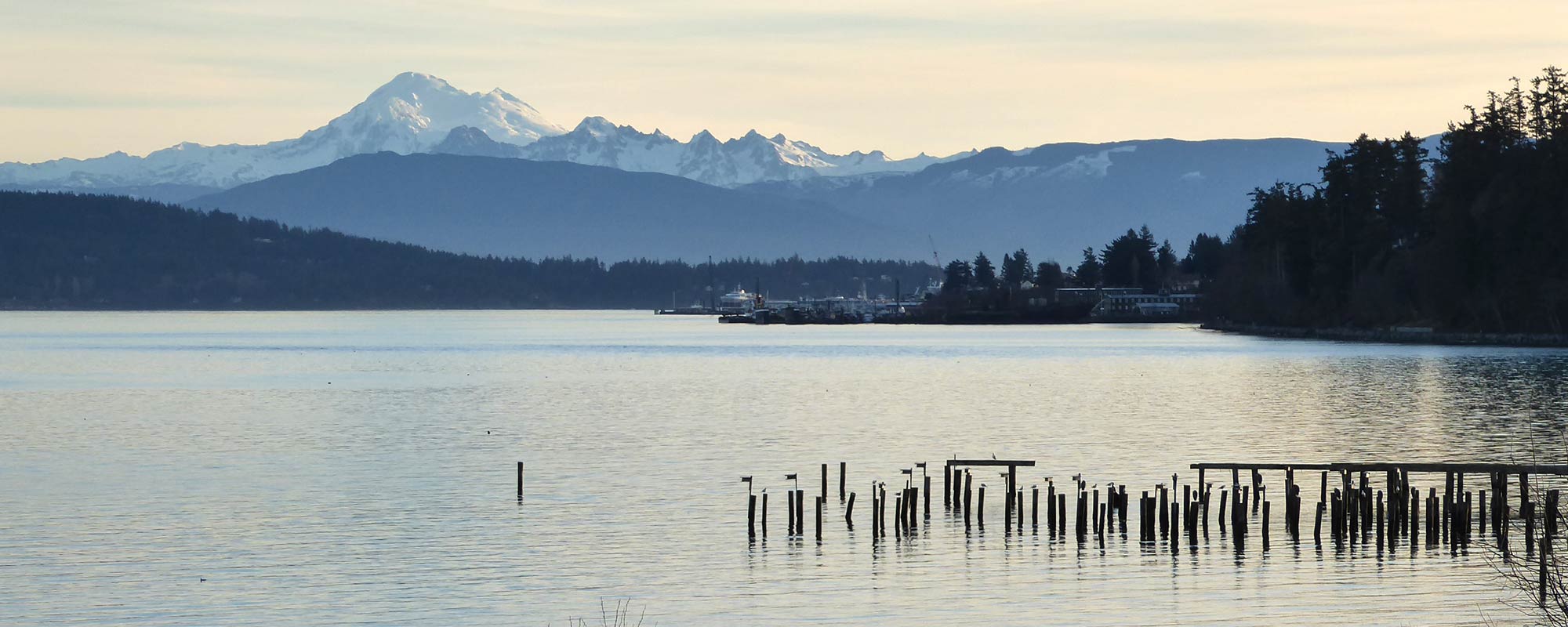 Great experiences come in small islands!
Anacortes, on Fidalgo Island, is a small and vibrant seacoast community on the edge of the Salish Sea. Fidalgo Island hosts the most protected forest lands and lakes in the San Juan Island Archipelago, beautiful coastal state parks with miles of trails, a myriad of terrestrial and aquatic wildlife, colorful spring wildflowers, and lookouts high above that offer amazing vistas 360!  We also enjoy some of the driest and mildest weather in Western Washington by being in the Olympic rain shadow.
The Anacortes "Wild Side" Eco Tour takes you on short walks around Fidalgo Island coastal parks and forests in search of wildlife, wildflowers and scenery.  We'll look for eagles, herons, oystercatchers, osprey, seabirds, shorebirds, forest birds, harbor seals, harbor porpoise, river otters and beavers. Tidepooling is always a fun option during extreme low tides.  Along the way, you'll also learn about the fascinating geology of the island.
The history of Anacortes is quite special and you'll learn a bit about it from our local guide.  It was once dotted with salmon canneries and pulp mills.  Now it is home to a thriving maritime industry with its marinas, shipbuilding yard, fishing fleet, fish processing plants, historical and maritime museums, and a quaint historical downtown filled with unique shops, art galleries and restaurants
A trip to Deception Pass State Park offers exquisite views of the San Juan Islands, Vancouver Island and the Olympic Mountains across the Salish Sea.  Here, you'll also learn about the local Coast Salish tribes ways of life and legends.
Time and interest permitting, we'll visit nearby farmlands and quaint "Tiny Towns".
JANUARY – DECEMBER
(except April)
9:30 am – 4:30 pm
$186 Adult
$93 Child (10 & under)
BOOK MY ADVENTURE

Backed by 30 years of safely guiding Adventures!
Not included: lunch, taxes & fees, and gratuity
Very Small group size: 1-5 Adventurers
Pick-up & drop-off locations: Mount Vernon Amtrak train & bus Station, Anacortes Ferry, hotels, motels, B&Bs, AirBnBs, marinas, residences & Airporter Shuttle locations in Anacortes, La Conner, Burlington & Mount Vernon.
FAQs: Booking policy  |  How do I get to your area?  |  Where can I stay? | What should I wear and bring?  |  Safety & Forms
Testimonials
"A fantastic way to "re-wild" your spirit! The hike we took was at our pace and level of hiking. We learned about the wild flowers, trees and birds. We also got a bit of history of the island." Kristi, Montana & Kim, Washington
"Stephanie was AMAZING. There are other tour guides in the area but Stephanie made me feel as though we were best friends reconnecting again. She was full of life and energy! I could see how passionate she was about her job and she was extremely knowledgeable. I learned SO much from her. She went out of her way to make a specialized tour for me since I was limited on time and wanted to see particular things. She answered all my questions and she never rushed me when we were sightseeing. She picked me up from my hotel and dropped me off at another adventure I had booked!!! She is PHENOMENAL. If you want a tour guide who is energized, passionate about their home/job, super friendly and accommodating than you MUST book with Skagit Guided Adventures! You won't be dissapointed. It was an experience I'll never forget. Thank you so much Stephanie!"  Christine, Washington DC
"We really did "connect" to the wild side on this tour of Fidalgo Island! Herons, ducks, eagles, hummers, gulls, black-tailed deer–even in the winter cold, there was so much to see and enjoy! The scenic views were fabulous! The walk on a sandy beach was delightful, and the tidbits of history and marine biology shared by Guide Stephanie made the trip even more enriching! A great day for my camera! Thank you, Stephanie, for a memorable outing!" Nedra, Washington
Looking for a Multiday Adventure?