SKAGIT BIRDING ECO TOUR
October – March       9:30 am – 4:30 pm*
$186 Adult, $93 Child (10 & under)
*times set to accommodate the Amtrak Cascades train schedule from Seattle and Vancouver into the Mount Vernon station.
The Skagit Birding Eco Tour takes you to the diverse habitats of western Skagit County in search of birds.
Skagit Valley farmlands host thousands of snow geese & smaller flocks of tundra and trumpeter swans   Be prepared to listen to the cackling cacophony produced by the highly gregarious geese and the unmistakable honking of the swans.  We'll be on the lookout for bald eagles (and their nests), hawks, owls, ducks and herons as well.
We'll checkout a couple of other excellent birding spots in Skagit and Padilla Bays to look for waterfowl, shorebirds and wading birds, such as elegant Pintail ducks, chubby Widgeons, gregarious Dunlin and magnificent Great blue herons.
We'll explore the shores of the Salish Sea around Anacortes, Fidalgo Island and Deception Pass in search of seabirds.  Beautiful Harlequin ducks, daffy-duck-looking Scoters, big and heavy solitary Loons, gregarious Widgeons, cute black and white Buffleheads, and a couple of species of Grebes and Mergansers are found diving for their particular food items in an underwater restaurant!
Ever been to a heronry?  The two largest and most important heron nesting grounds in the western US are located right here, in western Skagit!
Stunning backdrops of farm fields, historical barns, snow-peaked mountains, Mount Baker, the San Juan Islands and the water ways of the Salish Sea are there to frame your photos.
Don't let our crisp and wet winter days deter your enthusiasm for joining this Adventure.  Much of the birding can be done from the car to keep you warm.  Nonetheless, warm clothing (layers, gloves and hat) and rain gear are highly recommended.
Loaner binoculars are always available if you don't have your own or want to try different ones.
Not included: lunch, taxes & fees, and gratuity
Small group size: 1-5 Adventurers
Pick-up & drop-off locations: Mount Vernon Amtrak train & bus Station, Anacortes Ferry, hotels, motels, B&Bs, AirBnBs, marinas, residences & Airporter Shuttle locations in Anacortes, La Conner, Burlington & Mount Vernon.
Other details: Booking policy  |  How do I get to your area?  |  Where can I stay? | What should I wear and bring?  |  Safety & Forms
30 years safely guiding Adventures for thousands of happy Adventurers!
This Adventure is professionally lead by Naturalist-Guide (and owner) Stephanie.  She has guided all sorts of fun and educational land and water-based Adventures, throughout the US, Mexico and Canada, for the past 30 years.  She shares her passion for nature on every Adventure, as well as her knowledge of the natural & cultural history, marine & terrestrial habitats, flora & fauna, and ways of life of NW Washington.  Read more about her.
Got questions?   (360) 47 47 47 9    steph@skagitguidedadventures.com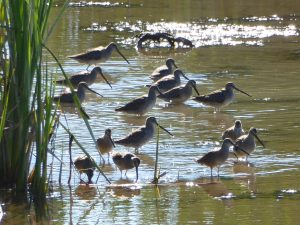 Testimonials
"Truly a magical day. Stephanie went out of her way to find birds for my tour. She'd done lots of advance planning for the best chances of spotting elusive birds. I could not have asked for a better day." Jennifer, Washington
"Thanks so much for showing us what to look for and where to look!  We had the most wonderful adventure and we can't stop talking about all we learned".  Ramona & Kevin, Washington
"We had a great time and saw many birds. Our guide, Stephanie, was fantastic and made sure we had breaks when we needed them and all the equipment we needed for birding. She had organized a trip to make sure that I saw as many new species as possible. Over all it was a great day." Susan, Alabama
"This was quick trip for holiday flew from east coast.wow saw 27 species in one day and saw 160 bald eagles one morning! Stephanie is best guide I ever had.what a wonderful 2 days I had,,highly recomended." Jung, South Korea