SAN JUAN ISLANDS GUIDED TOUR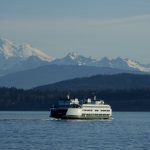 Experience the "San Juan Islands' way of life"!
The Adventure begins with the 65 min ferry ride from Anacortes to Friday Harbor.  Cruising the intricate waterways formed by the "Evergreen" islands is simply mesmerizing.  Be on the lookout for bald eagles, harbor seals, harbor porpoises and several species of seabirds (binoculars provided). Enjoy the stunning views of Mt Baker, the Olympic Peninsula and Vancouver Island on clear days!
The San Juan Islands Guided Tour is an ideal Adventure for a single traveler, a small group of friends or family, or a private charter.
ONE-DAY ADVENTURE
Upon arrival in Friday Harbor, we'll immediately set off on your San Juan Islands Guided Tour around the island.  The itinerary includes visiting its iconic destinations (any of these stops are optional):
San Juan Island's 20-acre Sculpture Garden
Roche Harbor Seaside Village and Marina harboring its historic Hotel De Haro and quaint seaside village.  Two restaurants offer lunch options here.
Krystal Acres Alpaca Farm
Lime Kiln Point State Park and Lighthouse (orca whale lookout in summer)
Pelindaba Lavender Farm
Downtown Friday Harbor: Orca museum, galleries, boutiques & restaurants
Return time to Anacortes is set to ferry departure times that accommodate your transportation schedule back to Seattle.  Please contact us at (360) 47 47 47 9 to help you with transportation options from Seattle and accommodations in Anacortes, La Conner or Mount Vernon.
When: Year-round,upon request    Tour length: 9 hrs
Includes: pickup/drop off, ferry fee    Does not include: lunch, taxes & fees, gratuity
TWO-DAY ADVENTURE
Design your Two-Day San Juan Islands Guided Tour by combining the One-Day Tour Itinerary with one or all of these options:
Add an overnight stay on San Juan Island to enjoy other outdoor Adventures, such as hiking, kayaking*, whale watching* and an evening sail* (*additional cost).
Add a trip to Orcas Island for a guided hike to Mount Constitution, the highest point in the San Juan Archipelago!
Other options are available as well.  Please inquire.
For more information, help with transportation & lodging options, designing and booking your San Juan Islands Guided Tour, call us at (360) 47 47 47 9.
Staying in Seattle or Vancouver but don't have a car? Easy.  Hop on the Amtrak Cascades train from the Seattle King Station to the Mount Vernon Station pickup.  Other options include the Amtrak Thruway Bus, Greyhound bus, public transit bus and the Airporter Shuttle.
Skagit Guided Adventures offers small group Nature, Hiking & Farm Tours around Anacortes, Skagit Valley, Mount Baker, the North Cascades & San Juan Islands.  Join one of these fun Adventures for a day. Or stay longer for a multi-day Adventure to "Re-Wild" Your Spirit! in NW Washington. Check out all Guided Adventures.